Exploring the Vibrant Wholesale Furniture Market in Jodhpur: A Treasure Trove of Jodhpuri Furniture
Welcome to Jodhpur, the Blue City of Rajasthan, where the air is imbued with the aroma of rich cultural heritage. Meanwhile, the streets are adorned with the charm of Rajasthani architecture. However, beyond the majestic forts and palaces, lies a hidden gem that has been attracting furniture enthusiasts from across the globe – the Wholesale Furniture Market in Jodhpur. In this blog, we will go on a journey through the top wholesale furniture markets in Jodhpur. Thus, discovering the allure of Jodhpuri furniture and the essence of Rajasthan's craftsmanship.
1. The Enchanting Sardar Market
Our first stop is the iconic Sardar Market, where the heart of Jodhpur's bustling wholesale furniture trade beats. Amidst the vibrant chaos of this historic market, you'll find many furniture shops in Jodhpur that offer an incredible variety of Rajasthani furniture. From intricately carved wooden masterpieces to rustic and vintage-inspired pieces, Sardar Market is a treasure trove for furniture enthusiasts.
2. The Fascinating Sojati Gate Market
Next, we head to Sojati Gate Market, where the allure of Jodhpuri furniture unfolds in its full glory. This market is known for its diverse range of furniture styles, reflecting the rich heritage of the region. Whether you're seeking traditional Rajasthani furniture or contemporary designs with a touch of Jodhpur's artistic finesse, Sojati Gate Market has something to cater to every taste.
Amidst the bustling market lanes, you can't help but marvel at the skill and creativity of the local artisans. Moreover, each piece of furniture tells a story, with intricate carvings and vibrant colors. So, you can explore the essence of Jodhpur's rich cultural legacy.
3. Ace Craftique: Furniture Market In Jodhpur
Among the many gems in the Jodhpur Furniture Market, Ace Craftique stands out as a destination for those seeking exquisite handcrafted furniture pieces. It comes with a dedication to preserving traditional techniques while embracing contemporary designs. Thus, Ace Craftique captures the essence of Rajasthani furniture in each of its creations. From ornately carved wooden pieces to elegant metalwork, their collection showcases the pinnacle of craftsmanship that Jodhpur is celebrated for. Additionally, this is one of your top Indian wholesale websites  for furniture.
Location: Near DPS Circle, Jodhpur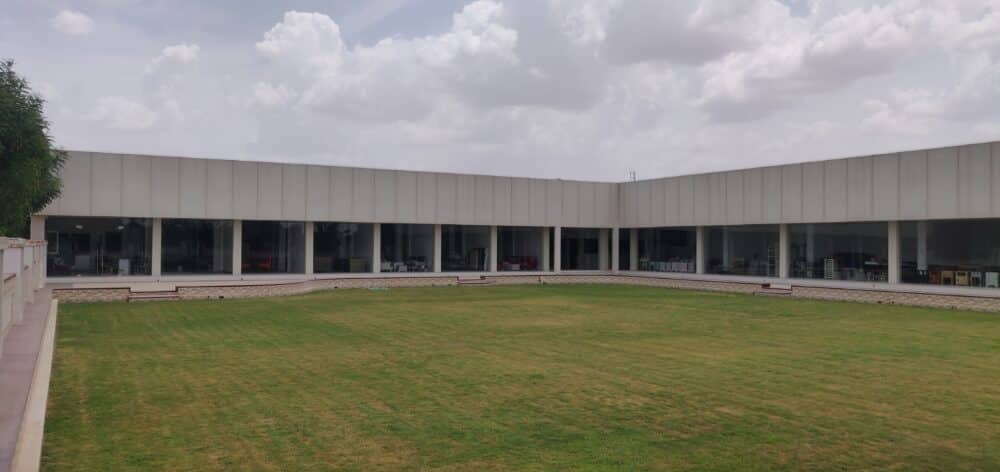 4. The Alluring M.G. Road Furniture Market
M.G. Road is a haven for those in search of furniture shops specializing in Jodhpuri furniture. Here, you'll find wholesalers and suppliers showcasing their finest collection. Thus, making it an ideal destination for businesses and bulk buyers seeking to add a touch of Rajasthan's charm to their ventures.
Location: MG Road Jodhpur
4. MIA Basni Furniture Market
The vibrant MIA Basni Furniture Market is nestled in the heart of the Basni industrial area, Jodhpur. This bustling hub is a haven for furniture enthusiasts, housing an extensive array of furniture manufacturers and suppliers. As you wander through its alleys, you'll be captivated by the diverse selection of wooden chairs, tables, cabinets, beds, and much more.
Renowned for its dedication to quality craftsmanship, the MIA Basni Furniture Market showcases furniture pieces that exemplify artistry and durability. Whether you seek classic designs or contemporary styles, this market caters to all tastes and preferences.
Moreover, the market's competitive prices make it an ideal destination for both locals and visitors in search of the perfect piece for a living space. As you explore the MIA Basni Furniture Market, you'll witness firsthand the fusion of traditional expertise and modern innovation. Thus, leaving you with an unforgettable experience and the opportunity to bring home the finest furniture pieces crafted in Jodhpur.
Location: Basni Industrial Area, Jodhpur
5. Ratanada Furniture Market
Welcome to the vibrant Ratanada Furniture Market, a bustling wholesale destination that beckons both local and international buyers alike. Situated in the heart of Ratanada, Jodhpur, this market is a treasure trove of high-quality wooden furniture that will leave you awe-inspired.
As you step into this furniture haven, you'll be greeted by a dazzling array of meticulously crafted beds, dining sets, and cabinets. Moreover, each showcases the intricate carvings and timeless charm. Ratanada Furniture Market prides itself on offering pieces that epitomize elegance and durability. Thus, a testament to the skilled craftsmanship of Jodhpur's artisans.
One of the market's distinctive features is its commitment to customer satisfaction. With customizable options available, you have the freedom to transform your furniture dreams into reality. Whether you desire a unique design or specific dimensions, the market's customization services cater to your every need.
Embrace the enchanting atmosphere of Ratanada Furniture Market as you explore its diverse offerings. From the rich aroma of seasoned wood to the expert guidance of friendly vendors, the experience is both delightful and fulfilling.
The market operates from 10:00 am to 8:00 pm, though timings may vary. So, make sure to plan your visit accordingly to immerse yourself in the world of exquisite wooden creations.
Location: Ratanada, Jodhpur
6. The Marvelous Lalji Handicrafts
Our journey wouldn't be complete without a visit to Lalji handicrafts, where you'll witness the pinnacle of Rajasthani craftsmanship. This remarkable emporium houses an extensive range of furniture pieces, from the ornate and intricately detailed to the minimalist and contemporary. Lalji Handicrafts is a must-visit destination for anyone seeking to immerse themselves in the rich heritage of Jodhpuri furniture.
In Conclusion, Jodhpur's furniture market is an enchanting fusion of artistry, heritage, and craftsmanship. Whether you're a wholesaler looking for Indian wholesale websites or a furniture enthusiast seeking to add a touch of Rajasthan to your home, the Wholesale Furniture Market in Jodhpur has something for everyone. Embrace the charm of Jodhpuri furniture as you traverse through these vibrant markets, and take home a piece of the city's artistic soul that will elevate the beauty of your living spaces.