Top 9 Things To Do In Jodhpur
As a passionate traveler, exploring the captivating city of Jodhpur is an absolute delight. Nestled in the heart of Rajasthan, this vibrant destination, also known as the Blue City, offers an abundance of cultural wonders, architectural marvels, and unique experiences that will leave you enchanted. In this blog, we will go through things to do in Jodhpur in 2 days and places to visit in jodhpur in 2 days. 
1. Mehrangarh Fort: An Imposing Citadel of History
A trip to Jodhpur is incomplete without visiting the majestic Mehrangarh Fort. This imposing fortress, perched atop a rocky hill, boasts awe-inspiring architecture and breathtaking views of the city below. Furthermore, spend hours wandering through its massive courtyards, exploring its well-preserved palaces. Meanwhile, immerse yourself in the history and legends of the Rajputana warriors. So, this is one of the best places to visit in jodhpur.
2. Blue City Wander: A Photo Walk Through the Lanes
Jodhpur's iconic Blue City is a photographer's paradise. Roam through the narrow, winding lanes, where indigo-hued houses create a stunning canvas. Each corner presents a picture-perfect moment, and every turn unravels the soulful essence of local life. Thus, capture the charm of this unique cityscape add colors to your memories. Moreover, engage with the warm-hearted locals to get an unforgettable experience. 
3. Jaswant Thada: A Serene White Marble Memorial
Visit the serene Jaswant Thada, a beautiful marble cenotaph dedicated to Maharaja Jaswant Singh II. The intricate carvings and tranquil surroundings make it a peaceful spot to reflect and unwind. Thus, take in the ethereal beauty of this memorial and the picturesque gardens that envelop it.
4. Umaid Bhawan Palace: A Glimpse of Royalty
Explore the opulent Umaid Bhawan Palace, a blend of Indian and European architectural styles. Marvel at the grandeur of this heritage structure, part of which is now a museum displaying artifacts and historical treasures. Stroll through its lush gardens and imagine the luxurious lives of the past royalty. So, here is the location of this beautiful piece of architecture. 
5. Stepwell Toorji Ka Jhalra: An Architectural Gem
Indulge in the architectural brilliance of Toorji Ka Jhalra, an ancient stepwell with intricate carvings and a cool respite from the desert sun. Furthermore, admire the symmetrical beauty of this historic marvel and appreciate its significance as a vital water source in times gone by. 
6. Sardar Market: A Shopper's Haven
Immerse yourself in the vibrant atmosphere of Sardar Market, where bustling bazaars offer a treasure trove of textiles, handicrafts, and spices. Bargain with the friendly shopkeepers, savor local street food, and take home souvenirs that echo the cultural charm of Jodhpur.
7. Explore Mandore Gardens: A Tranquil Oasis
Escape to the peaceful Mandore Gardens, a green oasis dotted with cenotaphs and temples. Take leisurely walks amid the lush surroundings, admire the charming architecture, and enjoy moments of serenity away from the bustling city. Additionally, you can plan a picnic day with your loved ones here. 
8. Flying Fox Zipline Adventure: Adrenaline Amidst History
For adventure seekers, the Flying Fox zipline experience near Mehrangarh Fort promises a unique thrill. Soar through the air while enjoying panoramic views of the city and the fort's formidable walls. Thus, making it an unforgettable experience for the daredevils among us.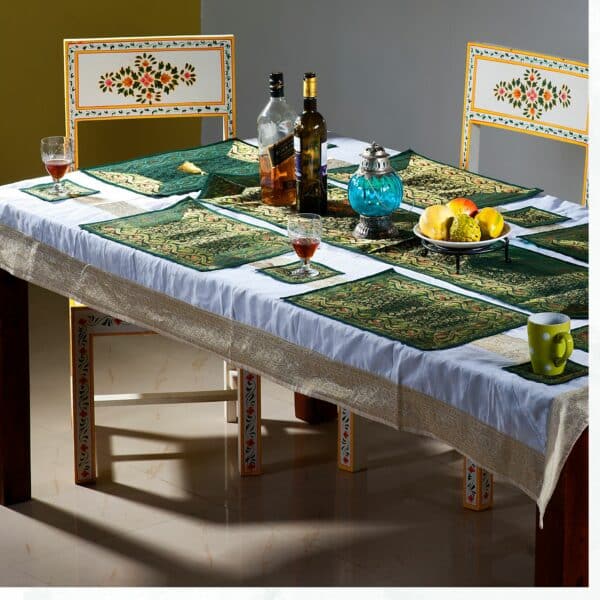 9. Ace Craftique A Souvenir Furniture Store: 
As you step into the showroom, you'll be captivated by the fusion of traditional Rajasthani designs with contemporary styles, reflecting the city's rich heritage. Furthermore, each handcrafted furniture piece tells a unique story, showcasing the skilled artistry of local artisans. From intricately carved metal end tables to the timeless beauty of bone inlay tables, every creation is a masterpiece. Moreover, with a focus on quality and authenticity, Ace Craftique offers travelers a chance to take home a piece of Jodhpur's artistic soul. Thus, is one of the top 9 things to do in Jodhpur for you. 
Conclusion: Unravel the Magic of Jodhpur
Jodhpur's allure lies in its vibrant colors, rich history, and cultural heritage, making it a must-visit destination for any traveler. So, in just two days, you can immerse yourself in a world where the past seamlessly blends with the present. From exploring grand forts to embracing the simple joys of a stroll through the Blue City's lanes, Jodhpur offers an enchanting experience. So, explore these top 9 things to do in Jodhpur that will leave an indelible mark on your travel memories.